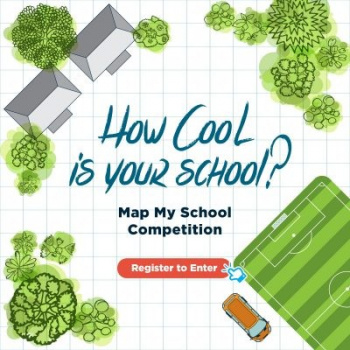 How cool is your school?


Join the Mapping Competition 'How Cool is Your School' in 2022 and be in with a chance to win great prizes (no drones required).
What is the 'How Cool is Your School' Competition?
This competition is a simple set of lessons where your students use satellite data to map the amount of green shade on your school grounds.
Students will calculate the percentage of shade and create a map that meets cartographic (mapping) conventions. The maps the students create are then entered into the competition.
Who can participate in the competition?
The 'How Cool is Your School' competition is open to all students from Kindergarten (Foundation) through to Year 8.
This opportunity empowers the students to practice their mapping skills (beginner to advanced) and calculate the percentage of green shade available at your school.
How can my students participate?
It's easy for your students to get involved in the competition.
Simply register your interest, and we will email in early April the instructional videos and teaching resources for you to understand how to teach the lesson(s). All our teaching resources are aligned to the Australian Curriculum.
What is the Judging Criteria?
Each student should produce a map that meets cartographic (mapping) conventions.
Border – shows the map boundary
Orientation – a north arrow shows correct direction
Legend – explains colours, features, symbols
Title – what the map is about
Scale – for measuring distance
Sources – who owns the data, map creator, date
Beyond this, it is truly an art to making an aesthetically pleasing map. Experiment to see what works for you!