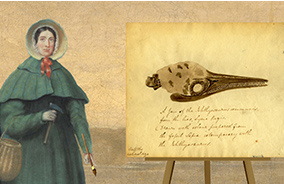 SASTA are proud to be involved with this year's Mary Anning Art Prize!
The aim of the Mary Anning Art Prize is to have young South Australian artists create an original piece of artwork that tells us something about the prehistoric life of South Australia. It is essential, to be eligible, that the artwork explores an element of South Australia's rich and remarkable prehistoric past, and that the artist lives in South Australia. To explore and illustrate our own past is to better know who we are as South Australians, and to better understand our unique place in the history of life.
Proudly brought to you by Dinosaur University and supported by SASTA and the South Australian Museum.
While all visual art-forms are eligible, each entry must be presented in the form of a single photograph of the artwork.
What makes a successful entry?
Scientific accuracy, creativity, and originality
The best art isn't just a picture, or a sculpture. It tells a story!
Submissions open 14 March 2022
Submissions close 17 June 2022
For more information and entry details visit the website.