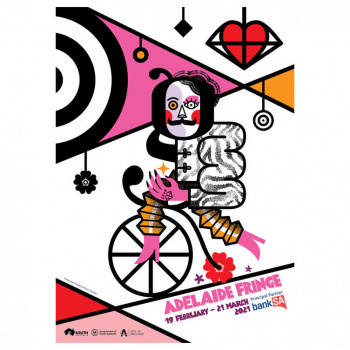 Science at the Fringe
For the Fourth year, the Adelaide Fringe is excited to collaborate with Inspiring South Australia on the return of the Science at the Fringe Guide!
The Science at the Fringe Guide is for anyone and everyone who loves to ponder, wonder, wander, imagine, dance, smile and laugh. You can find photons and sequins, food of the future, super heroes and superpowers, sci-fi parody, Attenborough's animals, Blinky Bill and friends, archaeology and death, the mystique of the human psyche, history, the alphabet and wine!
Then there's the superb Waterhouse Exhibition and some awesome adult fun with things that go bump in the night, both at the South Australian Museum.
View the Science at the Fringe guide here.


Adelaide Fringe Schools Program
The Adelaide Fringe Schools Program provides assistance, benefits and resources to teachers booking Fringe experiences for their students.
Fringe kicks off on 19 February and nearly 150 Fringe artists are offering schools discounted tickets, free teacher tickets, flexible session times and in-school performances. Category 1 to 4 schools can also access an Equity Discount of $5 per ticket booked.
The Schools Booking Guide containing all this information is now available to view here. Printed copies will be distributed to every South Australian school during January. If you would like to receive your own copy of the printed Schools Booking Guide please email a request here.