Stage 1 Psychology 2021 Workshop Recording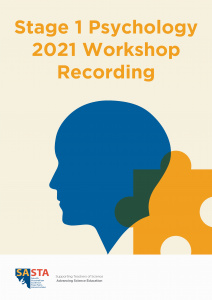 The Stage 1 Psychology 2021 Workshop Recording is a full day recording of the recent Planning for Stage 1 Psychology 2021 workshop.

ALSO AVAILABLE: Stage 1 Psychology 2021 Starter Pack
Outline of this recorded workshop presented by Kirsty Gebert and Deb Green
Overview of content – SU, SIS, SHE
Planning for learning and assessment
Task designs for D&D and SHE
Conversation groups – brainstorming ideas for learning activities
Intended audience: Stage 1 & 2 Psychology Teachers
Once purchased, you will be sent a link to download the recording via www.wetransfer.com. The link will only be emailed to the address used to purchase this item through this website. You will only have seven (7) days to download the file; after that the link will automatically expire.
NB: the email including the download link is not sent automatically - it can only be emailed during SASTA office hours.
If you have not received your download link within seven (7) days of having purchased this product, please email us directly to office@sasta.asn.au with your order number.