Biology: Levels of Life Textbook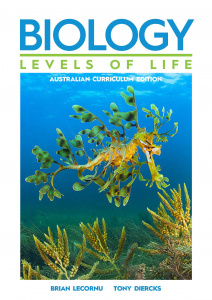 This publication now comes as an e-book, priced at just $15.00!
Biology: Levels of Life Australian Curriculum Edition, written by experienced authors Brian LeCornu and Tony Diercks, was first published in November 2017 for the new stage 2 SACE course in 2018.
The book was reprinted in October 2019, with updates to match the minor changes in the subject outline for 2020, and is still current for 2022. This reprint is completely compatible with the original version, as the page integrity has been maintained throughout the book.
The textbook has an attractive layout and is easy to read. Biological ideas and concepts are communicated clearly and unambiguously.
Features of the textbook include:
complimentary 15 month subscription to the e-book is available with every hard copy purchased
clear and colourful headings
important terms in bold text boxes that contain interesting additional information
study questions at the end of each chapter, that enable students to check their understanding
QR codes and tiny URLs that link quickly and easily to relevant scientific articles, documents, videos, and animations
a special symbol is used throughout the book to highlight sections that relate to science as a human endeavour (SHE)
an extensive glossary that is really a biology mini-dictionary
a comprehensive index
a compact design, so the book is easy to carry between school and home.
The chapters have been carefully planned and can be taught as standalone units.
Two other publications complement the textbook and are available now from SASTA:
ISBN: 978-0-9577554-4-4
* All prices listed are inclusive of GST.