SACE Stage 1 Biology workbook - 2nd Ed.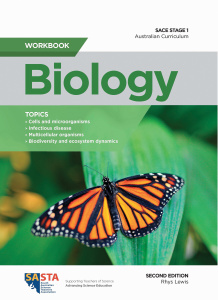 View sample pages here.
The SACE Stage 1 Biology Workbook (2nd Edition) has been written to align to the current SACE Stage 1 curriculum. The workbook contains all new original questions for students, covers all topics outlined in the SACE curriculum in an easy to read format and is printed in colour and rich with illustrations and diagrams to enhance learning.
Fully illustrated;
Over 100 original questions;
Over 250 problems with worked solutions;
Questions range from simple to challenging;
All questions are mapped to the current performance standards for Stage 1 and 2; and
Topic test for each chapter
ISBN: 978-0-6481667-6-4
* All prices listed are inclusive of GST.