SACE Stage 2 Physics Workbook - 1st Ed.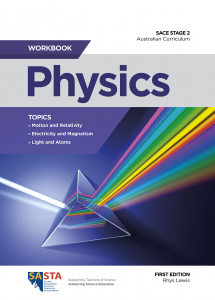 View sample pages here.
The Stage 2 Physics Workbook is a student text and workbook that covers all content of topics outlined in the SACE Stage 2 curriculum and provides students with questions and solutions to test their understanding.
The workbook contains over 600 original questions including over 50 questions on the topics including Relativity, Electromagnetic Induction, and Particle Physics. Three Review Tests have also been included. The questions are in context, include local examples and are designed to prepare all learners for assessment tasks in Stage 2 physics including the end of year exam. The workbook is elegantly designed and contains hundreds of illustrations drawn by an experienced physics teacher.
ISBN: 978-0-9953841-6-3
* All prices listed are inclusive of GST.