SACE Stage 2 Biology Workbook - 1st Ed.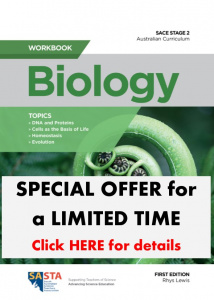 SPECIAL LIMITED OFFER
We know the Subject Outline for Stage 2 Biology has changed for 2020!
So for a limited time, SASTA is providing four brand new topic tests with every purchase of our Stage 2 Biology workbook. The tests include a range of questions designed for the 2020 Subject Outline which will prepare students for the Stage 2 examination. The tests include multiple choice, short-answer, science inquiry skills and a SHE questions. These tests are a must-have for all students and teachers! Don't miss out, supply is limited.
Click here to view sample pages.
This workbook provides students and educators with over 550 practice problems embedded within 110 questions. The questions range in difficulty from simple to challenging and are intended to prepare students for assessment tasks in Stage 2 Biology.
Instructions on how to download these new tests will be included with each physical copy of the Stage 2 Biology workbook that you purchase. They will not be distributed any other way.
Please note: this offer is valid ONLY for the SASTA Stage 2 Biology Workbook.
ISBN: 978-0-9953841-4-9
* All prices listed are inclusive of GST.