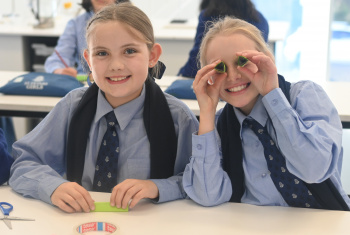 Inspired by Science Week, Saint Peter's Girls School was energised with scientific enthusiasm to explore, discover, and create, harnessing this year's theme, 'Innovation: Powering Future Industries.' From our youngest learners in mid-year reception to our seasoned senior school scientists, each student delved into hands-on activities, bringing to life the essence of this annual celebration.
Our girls embarked on journeys ranging from crafting kazoos and exploring sound waves to launching bottle rockets and constructing kaleidoscopes offering mesmerising light views. The enthusiasm didn't wane during lunch breaks either. Every day offered a fresh adventure, be it scientific artistry with robots or deep dives into artificial intelligence in partnership with the University of Adelaide STEM Academy.
But why is this important, especially for our girls? We stand at the forefront of a world where technology is rapidly reshaping industries. Artificial intelligence, hydrogen power, and drone technologies, topics our girls encountered during the week, are not just buzzwords but the foundations of future industries. For our girls to thrive in this evolving landscape, understanding and harnessing innovation is not just beneficial—it's imperative.
Check out the Saint Peter's Girls School video from National Science Week here.
National Science Week serves as a pivotal platform for schools, emphasising the significance of science and its role in shaping tomorrow's leaders. While girls have traditionally seen less representation in STEM, this week allows us to change the narrative. Through hands-on experiences and real-world applications, we're enhancing their academic journey and setting the stage for our girls to see their roles as future trailblazers in these innovation sectors. As we reflect on the success of this year's National Science Week, we eagerly look forward to a future where our Saints Girls are leaders in tomorrow's innovative industries.
Melissa O'Loughlin Sophie Dolling
STEM Innovation Leader Scientist in Residence
Saint Peter's Girls School Saint Peter's Girls School