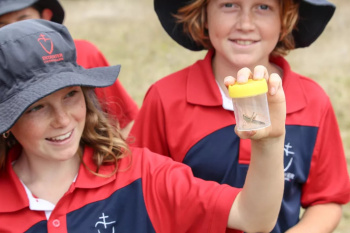 Budding junior entomologists from 50 regional schools in South Australia, Queensland and Western Australia have successfully recorded thousands of new insects as part of the South Australian Museum's citizen science project, Insect Investigators.
The project which launched in September 2021 connected regional and remote school students with researchers to learn about Australia's rich biodiversity.
Each school set-up an insect trap in March 2022 which they used to collect and monitor local insects over a four-week period. From this, more than 14,000 insect specimens were selected to be DNA barcoded by the Centre for Biodiversity Genomics at The University of Guelph in Canada, and today the DNA barcoding results will be released.
Only around 30 percent of the estimated 225,000 insect species in Australia are formally named and described. DNA barcoding involves sequencing a small section of the genome and using the variation among these barcodes to discriminate species, explains project leader Dr Erinn Fagan-Jeffries.
"While the gold standard is always going to be identifying and describing insects using DNA data in combination with their physical characteristics, the DNA barcodes provide a fast and cost-effective way of shining a light on the remarkable diversity of insects in Australia that we know so little about," she said.
Through Insect Investigators, participating schools have added more than 12,500 new DNA barcodes to the international online repository, the Barcode of Life Database. The variation among these barcodes suggests that there are more than 5,000 different species present among the specimens, and just over 3,000 of those are brand new records on the database.
Each of these DNA barcodes relates back to an individual insect specimen that will be deposited in the entomology collections at the South Australian Museum, Queensland Museum and the Western Australian Museum. Taxonomists from around Australia will then be able to examine and determine if they represent undescribed species.
"It is highly likely that all contributing schools have found species new to science which is really exciting, but how many of these species we are actually able to describe is dependent on the resources and support available for taxonomy," shared Dr Fagan-Jeffries.
"Despite there currently being many more insect groups than taxonomists, we are hopeful that the taxonomists will be able to spot some new species that can be described, and in those cases, the students will then be invited to name the unique species that they have discovered," she said.
The DNA barcoding results will be publicly released today on the Insect Investigators website: https://insectinvestigators.com.au.
Insect Investigators received grant funding from the Australian Government, is led by the South Australian Museum, and involves 17 partner organisations.
Participating schools in South Australia:
Ceduna Area School
Crystal Brook Primary School
Elliston Area School
Encounter Lutheran College Victor Harbor
Faith Lutheran College Tanunda
Kangaroo Island Community Education
Kingston Community School
Koonibba Aboriginal School
Loxton North School
Mimili Anangu School
Rendelsham Primary
Roxby Downs Area School
Sandy Creek Primary
Streaky Bay Area School
Trinity College Gawler
Wallaroo Mines Primary School
Yalata Anangu School