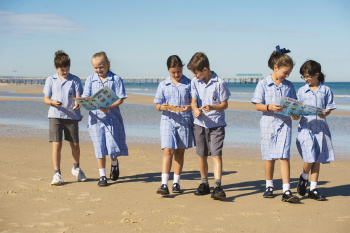 Star of the Sea school is home to 500 plus students in the beachside suburb of Henley Beach, Adelaide. Being located on Sea View Road, we are immensely fortunate to have the beach on our front doorstep. We are also fortunate to have the Marine Discover Centre (MDC) as part of our school. Both the beach and the MDC are incorporated into our school days in a number of ways.
We love the beach! In terms 1 and 4 when the weather is nice, students have the opportunity to head to the beach during lunchtime for play in the sand. Some popular beach games activities are our sandcastle competitions, beach soccer and sand art. One morning each week, before school, we also offer beach running. Students meet with a teacher at the beach and have the opportunity to start their day with a jetty-to-jetty run. Beach running also serves as excellent practice for our cross-country runners! Our students also use the beach during lessons. For example, Year 4 students looked at how erosion has an impact on our local part of the beach. The beach is utilised for walks, creative play and building tasks. Last year we even had a book week parade on the beach!
The MDC has been part of Star of the Sea School for many years. Currently, students get to attend the MDC for lessons once a week. Here they learn valuable information about the animals that they care for and the environment we live in. A lot of the learning is focused on our area and beach. When students reach Year 6, some students are even given the opportunity to help feed some of the MDC animals and learn how to care for them.
As a school, we are so thankful for these amazing resources that we are able to use each day!
Jess Stewart, Science Teacher
Star of the Sea School
The Marine Discovery Centre (MDC), located in Henley Beach, is the only coastal and marine educational facility for school-aged children and the broader community in South Australia.
The Marine Discovery Centre features interactive learning stations covering topics such as climate change, sustainable fishing, responsible water use, Aboriginal culture and the importance of preserving our marine environment. The aquariums feature local marine wildlife species and the team provide engaging beachside marine trails to complement the Centre's indoor educational activities.
The MDC hosts more than 7000 students from more than 100 schools each year, in addition to vacation care programs during the school holidays and public events on the weekend. Over the past 25 years, the Marine Discovery Centre has been a significant local institution, providing an interesting and innovative approach to education about marine life and conservation to school children - an education program that is not offered anywhere else in South Australia.
On Monday's, our resident Marine Scientist offers marine science lessons to the Star of the Sea students and external school group excursion hours are 9.45am – 2pm Tuesday to Fridays. Our contemporary educational methodologies challenge our visitors using inquiry learning, discovery and problem solving in a highly supportive environment.
Our team at the Marine Discovery Centre hope to connect you and your students with the marine world through our interactive excursions and classroom activities. Learning experiences at the Marine Discovery Centre are facilitated by qualified Marine Scientists and an Aboriginal Cultural Educator.
Programs relate directly to themes in the Australian Curriculum in areas such as Science, Aboriginal and Torres Strait Islander Histories and Cultures, Geography and Sustainability. These educational resources are also available online: https://www.marinediscoverycentre.com.au/education/teachers-educators
Watch the introduction video to see what the day includes and then Download the Marine Discovery Centre School Program.
New upgrades to the Marine Discovery Centre in 2022 in addition to the existing program include:
15 x Virtual Reality headsets
Beachcomber game
Climate change game
New animated educational series aligned with QR codes throughout the centre
Immersive lighting experience in the Kaurna Education room
Shoaling and schooling fish display on the floor
Sounds of marine and coastal wildlife
Discovery Dive game
QR coding for displays and specimens
3-tiered Oyster display tank
Hooded Plover display
New Kaurna tools and artefacts
The Marine Discovery Centre aims to provide inspirational discovery learning experiences whilst empowering students to actively protect South Australia's coastal and marine environments. You can book online, email info@marinediscoverycentre.com.au or call 8115 7402 to enquire about your next excursion.
Carmen Bishop
Partnerships & Marketing Manager
Marine Discovery Centre
cbishop@star.catholic.edu.au