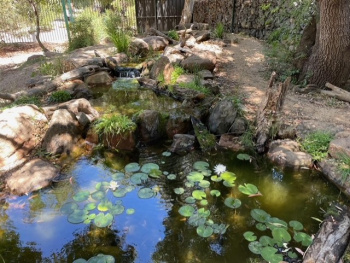 In 2020 Trinity Gardens School proposed a redevelopment of our biodiversity area, beginning with our school frog pond.
Our existing ponds did not support ongoing aquatic animal lifecycles due to the toxicity of stagnant water, duckweed and algae. The current ponds were re-designed to encourage the necessary environment for tadpoles & frogs to thrive or frogs to be released in the area and continue to thrive. This included a clean-up of the ponds, creating pathways, planting native shrubs, creepers and grasses around the edges and introducing lilies to the pond.
Our aim was to create an authentic learning space that can be utilised and accessed by all facets of our school community which includes both Mainstream & Steiner education, an Early Learning Centre and the St Morris Unit which supports students with disabilities. The science classes utilise this space and students have built insect hotels and frog houses to encourage frogs and insects to visit the area.
| | |
| --- | --- |
| Before | After |
Pathways were developed around the pond edges and throughout the biodiversity area to enable safe access for students to the pond area. We are continuing to develop the area with bush tucker plantings to enable student learning and also establishing a variety of native plants to attract birds, butterflies and bees. Some of the plantings so far include Atherton Raspberries, an Appleberry, Davidson Plum, Boobialla, Sea Celery, River Mint, Pig Face, Native Thyme and Yam Daisies. We're looking forward to seeing how the space thrives in Spring!
The bees have already made a home for themselves on an existing possum house.
This new biodiversity area can now provide authentic learning experiences and support the ongoing lifecycles of aquatic animal life and will soon attract birds, butterflies and bees.
- Meridee McClean