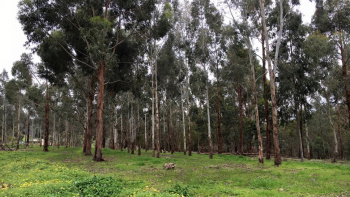 About Softfoot Sanctuary and Farm
Softfoot Sanctuary is located on Softfoot Farm's 600-acre property in Hindmarsh Valley, just 10 minutes from Victor Harbor. The property was established in the year 2000 by the Retallick family to offset emissions, research environmentally friendly farming methods, and protect endangered species.
Previously the land had been used for traditional farming and, therefore, had been cleared of native vegetation apart from a few large remnant gum trees. The Retallick family decided to use the land as a carbon sink to offset emissions from their other business and set about planting over 65,000 trees on the property.
To demonstrate one way to undertake more environmentally friendly farming, the property was stocked with alpacas, at the time a much less common domestic species. Alpacas are farmed for their fleece. One reason alpacas were selected over more traditionally farmed domestic species such as sheep and cows comes down to their feet. Alpacas have toes instead of hooves. These toes have a soft pad underneath which causes minimal topsoil damage as they walk compared to hooved animals. This is where the name 'Softfoot' stems from. Our aim in farming practice is to cause minimal damage to the environment and to educate others on these possibilities as well.
100 acres of predator proof animal sanctuaries were constructed so that endangered native marsupials such as bettongs and bandicoots could be bred safe from the threat of introduced predators such as cats and foxes. This gives a captive insurance population to prevent species going extinct and means that, in the long term, animals may be able to be released back into safe areas in the wild.
To create a safe natural environment for both local species and a refuge for species normally found through the River Murray, the small creek that runs through the property was widened to create a wetland.
This wetland is home to many species of local birds, mammals, reptiles, and amphibians and has been stocked with endangered species from the Murray River such as Murray Cod and Purple Spotted Gudgeon. These animals thrive in our wetland eco system where they don't face the constant pressure of introduced species such as carp.
As well as the species brought here by the Retallick family as part of their conservation efforts, the revegetation and rewilding of the farm now attracts over 100 local vertebrate species and countless invertebrates to live among the planted forests and man-made wetlands. You would be hard pressed to find another biodiversity hot spot so close to Adelaide.
Just two of the local species roaming the property the Shingleback Lizard and Purple Swamp Hen
Excursion Opportunities
After 20 years of developing our unique and amazing property we are now opening our facility to excursions to students of all ages and we look forward to seeing you here!
We can cover a variety of topics including
Sustainability and carbon emissions
Endangered species
How to care for wildlife in your back yard
Human responsibility to the planet and caring for the world
Ecosystems and food webs
Adaptations and observable features
Lifecycles
Classification
Activities include
Guided walking tours of the sanctuaries
Tractor tours of the whole farm
Interactive animal sessions
Tree planting sessions
Wetland water testing and dip netting
Hide building for small marsupials
Nest box building and hanging for native species
Wildlife surveys
Nocturnal tours
All activities are led by one of our Education Officers who specialize in teaching children about the environment and can match our programs to units in the curriculum. Speak to Alex, our Head Education Officer about the best way to fit your focus topics to your excursion or bring the students out for an enjoyable and educational variety session.
Check in with us regularly as we are always looking to add new and exciting activities!