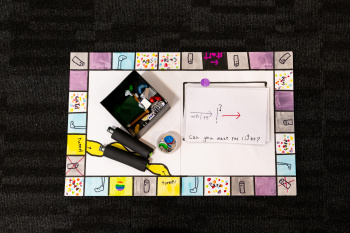 What is it like to be a judge in the Oliphant Science Awards? We met some previous judges and asked them why they think the Oliphants are important, why they judge and whether they had any hints or tips for entrants.
Games Category
Anita Trenwith (Uni SA Connect Team: SASTA Board) has been involved in judging for 4 years during which time she has judged posters; photography; games; and multimedia several times.
"I became involved because my son entered the Oliphants and really engaged in science as a result of it. I wanted to give something back so I volunteered to judge. I really enjoy it because I get to see the amazing projects students produce.
The Oliphants give students an opportunity to participate in a science activity that is their own passion. They aren't limited to having to do it on a particular topic (recognising though that some of the categories follow themes). So, if you're passionate about something you can invent your passion into it.
My son is now into his 5th year of entering Oliphant Science Awards and he is very driven. He's even made some videos for SASTA now. Initially it was multimedia. Then it was multimedia and scientific inquiry. Then he thought he could do a photography one as well. Every year he adds an extra category and gives it a go. He's planning to enter 4 categories next year. He's started working on them already."
Anita's tips for a good game:
"My biggest hint is read the rules. We have some brilliant entries that don't get across the line because they don't meet the size limit or category criteria. Each category has a rubric. Keep it in mind. Also, ultimately it is a science competition. Make it about science."
Dagmar Preusker (retired) has been a judge in the Oliphants for 12 years.
"The Oliphants are important to get kids engaged in science in practical and scientific ways. The Oliphants have such a high prominence in SA. The BHP Foundation Science Awards (www.scienceawards.org.au) are more high-end whereas the Oliphants allow everyday schools to participate on the same level as our high-end colleges.
I am a judge because I love childrens' creativity. I love seeing how they apply science in a fun way. I enjoy finding those little gems. You do not get them every year but now and again I look at an entry and go, I wish that one was in production – I would love to use that in my classroom."
Dagmar's tips for a good game:
"Follow the criteria and get some science in it. The rules are there for a reason. When it comes to games, the first thing we consider is presentation. I have seen so many games lose out because the presentation is not there. When we go to buy games it is a marketing aspect. We look at the box, we look at the pictures. There's a lot to get right."
You can check out some of the winning Games entries from 2021 here.
This article has been reproduced from the 2020 SASTA Journal Number 2. Previous issues of the SASTA Journal can be found in the members area.