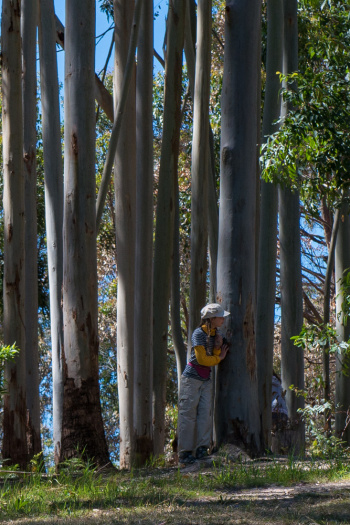 by Rona Sakko, President & Founder, Junior Field Naturalists SA & Chair, National Science Week Committee, SA
The high demand for environment-focused activities for primary and middle school aged students outside of school led Rona Sakko to found Junior Field Naturalists, SA. Here Rona outlines how Junior Field Naturalists came about as well as some of the opportunities it provides. She also outlines just some of the other organisations involved in environment education and lists those that can be conveniently visited under cover in the one place, at this year's Science Alive. So – if you are looking for organisations to refer families to, or to become involved with your school, this article is a great starting point.
In the early 80s, while seeking out nature-related activities for my children, I found there was little available. Discussions with other parents at the local school pointed towards a strong interest in a nature-based club for children.
I brought together a small steering group to look at the feasibility of establishing a junior field naturalists club in the area.
After embarking on a publicity campaign, we held our first meeting in September 1983 at the Bellevue Heights Primary School. We waited nervously at the door that night, hoping that we would have at least a few families coming along – and we were inundated with over 120 children and parents. We were on our way! The first guest speaker all those years ago was the well-known entomologist, Hans Mincham.
To this day our club has continued its success. Our hundreds of speakers over the years have included such legends as David Paton, Daryl Kraehenbuehl, Mike Tyler, Terry Reardon, Russell Baudinette, John Hunwick, Hal Crouch, Adam Lockett, Mark Hutchinson, Andy Austin, Roger Seymour ... the list goes forever on.
What is Junior Field Naturalists SA?
Junior Field Naturalists SA Inc is a club for nature enthusiasts aged 6 to 14. Our aim is to encourage curiosity and learning about the natural world through experts and from first-hand experience. Our club caters for a broad range of interests, including environmental issues. The club meets monthly (with guest speakers) and holds a number of field trips throughout the year. The club is run by a committee of dedicated volunteers who are passionate about the environment and educating young people. In 2011, Prof Chris Daniels (currently the inaugural Director of Cleland Wildlife Park) was appointed the Patron of Junior Field Naturalists SA.
What do we do?
Monthly meetings
A different guest speaker gives a presentation at each monthly meeting. Topics cover a wide range of animals and nature such as reptiles, bats, frogs, fossils, sharks, birds, mammals, astronomy ... any topic dealing with the wonderful world of nature. Where possible, specimens relevant to the topic are brought to the meeting.
When and where do we meet?
We generally meet on the last Thursday of each month from February to November. Meetings start at 7pm and finish at around 8.15pm.
We meet at the Bellevue Heights Primary School, Vaucluse Crescent, Bellevue Heights SA 5050.
Show and Tell
Children are encouraged to bring along their own items or collections (eg fossils, insects and so forth) for a "show-and-tell".
Field Trips
A number of field trips are held each year, ranging from bird banding to fungi forays, geology excursions and special visits to wildlife parks. Due to the enthusiasm of members and their families, the frequency and diversity of activities is constantly being increased.
We're 36 Years old in 2019!
2019 brings up the 36th year of our club. There have been many highlights over the years:
Almost since its inception, our club has been sponsoring a Murray Tortoise at the Adelaide Zoo as a way of encouraging young people to take an interest in the preservation of our environment and the conservation of our animals.
Our club was one of the first groups to tour what at the time was called the Zoo Agistment Area, later to be named Monarto Zoo. We also had a memorable tour of Warrawong Sanctuary with founder John Wamsley.
For our 30th anniversary, our patron, Prof Chris Daniels, presented an inspirational talk on: "Why Children Need Nature: The Gift of the Junior Field Naturalists". The evening included many celebrations – as well as cakes with little chocolate echidnas on top!
Some projects over the years included photography competitions, developing nature diaries, and exhibitions of members' nature collections.
In 2019, every child member of our club is receiving a free annual membership to Cleland Wildlife Park.
Success of our Nature Club
Over the years I have built up an enormous range of contacts in science and naturerelated areas, linking in with other programs, developing partnerships with a diverse range of organisations and showcasing the work of hundreds of scientists. These scientists have been generous with their time and expertise, helping to enthuse children and their families about nature and science. Without them, we simply would not have a club.
The success of the club has been seen in the number of families whose children have gone on to pursue their love of nature and science. There have even been members returning years later as parents themselves and bringing along their own children - parents who were influenced by the club when they themselves were young.
Typical Feedback from Families over the years
"The Junior Field Naturalists is such a special group to us all. We first came to the group in 2004/2005 when our oldest son was in Primary School and now our second son is thoroughly enjoying coming along with his friends each month. It has opened up many wonderful opportunities for us all and encouraged our children's interest in many different areas of science and nature."
Why do we need Junior Field Naturalists SA?
Children have a natural curiosity and enthusiasm for learning and this needs to be nurtured from a young age. They should have a connection to nature so they can understand the importance of protecting our environment and our precious native wildlife.
They also need an appreciation of science to be able to make informed decisions in the future and to better understand the remarkable and precious world in which we live.
Thanks to Bellevue Heights Primary School
Bellevue Heights Primary School has been hugely supportive over all these years, offering the use of their school hall for meetings. Then school principal, Mr Vince Mulkerin - in congratulating our group on its 30th anniversary - said: "It is an amazing feat to have held the Junior Field Naturalists together over such a long time and to still be focussed and committed to a very worthy environmental program." Thank you, Bellevue Heights Primary School – the club couldn't have done it without your magnificent support.
This article has been reproduced from the 2019 SASTA Journal Number 1. Previous issues of the SASTA Journal can be found in the members area.