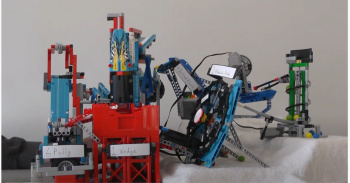 The Oliphant Science Awards (OSA) are open for all South Australian schools to enter – whether that be entering individual students or entire student cohorts. We asked the Oliphant Coordinators from 3 different regional schools about their involvement with the competition. Here are their responses along with images of some of their prize-winning entries for this year. With entries for many categories now able to be submitted online it has never been easier for schools to participate. Find out all the details in this year's Information Booklet here.
Alexandra Fowler
Woomera Area School
Woomera Area School travelled the most distance of any school to deliver their projects for judging. We asked Alexandra why she gets her school involved:
The most special thing about this year's OSA for me was the enthusiasm my students had for the competition. This was our second year contending. From the first day back at school I had students asking when we would start. Their enthusiasm was contagious with any opportunity to create an entry during our lessons being pursued.
Students asked to do posters while studying forces and the discovery of bush food plants in our school was a great find. My students also began begging me to take the cameras out at breaks.
We are only a small school. However, we had more entries than students, with one student sending in four entries (she had planned a fifth but time thwarts the best plans).
Seeing the enthusiasm from my students was amazing. As much as it takes a dedicated coordinator to run the OSA in a school, it is useless if the students don't want to do it. The 1,000 km return trip to Adelaide was worth every single second because of my students.
Aislinn Lauder, Woomera Area School
Category: Models & Inventions
Project Title: The Evolution of the Horse
3rd Place Year 5-6
Fleur Nattrass
Williamstown Primary School
How can you get your school involved in the Oliphant Science Awards? Fleur Nattrass gives her suggestions:
To get started, I would recommend schools look at the brilliant work students already produce within their science programs. Without making changes, you may find students are already completing projects which fit the Oliphant Science Award categories. At Williamstown Primary, we identified the independent scientific investigations our Year 7s were conducting were suitable to enter. In 2019 it was exciting when our Year 7s were awarded prizes. Other students saw how they had enjoyed the opportunity to participate in the Oliphant Science Awards which encouraged them to also be involved. This year, we were impressed by our Year 7s who not only completed their inquiries but independently uploaded their entries.
Once our older students had generated Oliphant Science Award excitement, our younger students were eager to enter a project.
A keen group of year 2/3 students met at lunch times in the science room and started playing with tools and equipment. By giving them this opportunity, the team found interest in hydraulic machines and decided to create a Pinocchio head with a moving hat and nose. The team met at lunch times for many weeks to complete their model and parents assisted with project delivery and collection. While students were excited to finish their model entry, they were also delighted to receive a highly commended award and see their work displayed on the Oliphant Science Awards website.
Ben Cameron, Heidi Travers & Evan Fleet
Williamstown Primary School
Category: Models & Inventions
Project Title: Pinocchio Power
Highly Commended Year 3-4
Julianne Koopman
Eastern Fleurieu R-12 School
Julianne, an experienced Oliphant Judge, has been involving her school in the Oliphant Science Awards for several years. They have had a good deal of success over the years.
Eastern Fleurieu School has been involved with the Oliphant Science Awards from the early 2000s. Our school has had a lot of success with individual winners and numerous country school awards.
We offer the competition to all students in Reception to Year 12 with the aim of promoting and fostering an interest in science. The competition gives students an opportunity to be creative with science and be involved outside the classroom. With the broad range of categories and topics offered, students can enter a project of their own interest.
Students receive support either in class, lunch or after school, or by providing them with materials, but the majority of the work is completed as a home project. This forces students to follow category instructions and manage their time effectively.
Our school allocates house points for all extra-curricular activities on top of sports day & the swimming carnival, so it is a great way for non-athletic students to contribute points to their house.
Isla Wagenknecht & Erika Main
Eastern Fleurieu R-12 School
Category: Games
Project Title: First to Earth
Highly Commended Year 5-6
Why not submit electronic entries online?
Entries for categories such as scientific inquiry, science writing and multimedia have now moved entirely online. Other categories also lend themselves to online submissions. For example, Winston Telfer (from Eyre Peninsula) submitted a video of his award-winning model - The Not-sosimple (Ball) Machine. The video of the machine operating can be viewed at: https://youtu.be/RF6b_iOljXM It is clever; it is mesmerising.
The Rowe Scientific Regional Science & Engineering Awards are a new initiative for 2022 and further information and criteria can be found here.
This article has been reproduced from the 2020 SASTA Journal Number 2. Previous issues of the SASTA Journal can be found in the members area.