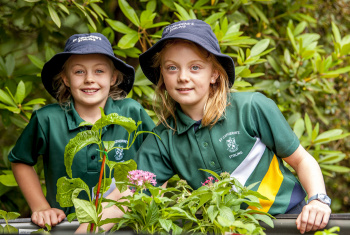 by Krystina Dawe, Assistant Principal, Religious Identity and Mission
How is Environmental Science present at St Catherine's School?
Within our school we have a variety of initiatives which have been set up as part of our commitment to sustainability. The work that we do stems from a desire to reduce our environmental footprint and become more environmentally aware citizens. This is not only present through ongoing school structures, but is also embedded into the teaching and learning. In using the Australian Curriculum and the Living, Learning, Leading framework to guide teaching programs, there are many opportunities to embed ecological learning into both the formal and informal curriculum.
At St Catherine's School we are proud of what we have been able to achieve. Some of the aspects which are included in our work are consciously reducing the amount of waste sent to landfill by using multiple bin systems within classrooms and admin areas. We are proficient with the use of classroom general recycling, class compost bins and have also recently expanded to soft plastic recycling. Our class compost bins are folded out of newspaper and are able to be dropped directly into a larger compost bin. This avoids having to wash out compost bins which would regularly be covered in food and over time become unpleasant. Our students have been pivotal in this, teaching others schools how to construct the newspaper bins and even creating YouTube videos as part of the digital technologies work, which can be shared more widely https://www.youtube.com/watch?v=LW7mes-JkUs&feature=youtu.be. Having these processes means that the landfill bins within classrooms are no longer the most predominantly used bins, and a large portion of the waste which is created is able to be recycled.
We are also pleased to be able to effectively run a canteen which also echoes this with minimal packaging and stock decisions are made in line with
'nude food' practices. The success of the canteen is due to a commitment of parents who volunteer their time and also share these values.
Students have the opportunity to be hands on as they work in the school gardens to grow a variety of edible produce. This is used in classroom cooking experiences and shared with the school community through the garden market stalls. Most recently, excess produce has also been collected and distributed to Monarto Zoo to be used with their animals. This relationship with Monarto Zoo helps ensure that there is minimal food wasted.
Over the last few years, we have expanded our gardening structure to include aquaponics. This is a method of growing garden produce in a soilless water system which is connected to large fish tanks. Essentially the grow beds, which use scoria as a planting foundation, receive nutrient rich water from the fish tanks which is filtered through the scoria and returned to the fish tanks as clean water. The plants are able to have consistent watering, with water constantly circulating through the system, and the fish are in oxygenated environments which are having their water revitalised through the inbuilt filtering system. Our work in this area has developed over the years as our knowledge and experience has grown. We have found the best fish to use within our system is rainbow trout as they are not only a native fish but also quite interactive when being fed. They are also quite hardy and able to withstand the cold that comes with winter in the Adelaide Hills.
An extension of the Aquaponics program has been the breeding program of the Purple Spotted Gudgeon. Dr Silvia Zukowski has been engaged by our school community to educate us on the importance of this particular breed of fish and how to take care of them so that they are able to breed in captivity, before being released into appropriate areas. There are several other schools involved in this captive breeding program who are also working towards this outcome. This program plays a vital part in increasing the numbers of these fish from numbers which showed them being close to extinction.
Why is this work so important for the students and wider community?
Our work in the area of sustainability provides students with a number of learning opportunities which help develop skills that are invaluable. A key focus is on behaviour change as we understand that there is great power in having people reflect on their role and discern about more positive ways for them to engage with the environment and people around them.
A key aspect of the work we have done involved student voice and as such there are many opportunities for students to be leaders in this area. We are committed to allowing the students to have ideas and where possible, see these come to life. They need to be empowered to be citizens capable of creating change. We want our students to be thinking beyond the current situation and consider the impact their choices have on future generations, seeing that it is much bigger than just them or their peers.
What have been some of the challenges which you have faced?
One thing that is essential to the success of such program is to have the process and routines established in such a way that responsibility is shared. It is important to be able to continue momentum despite any changes which may occur so that routines can continue without losing the progress which has already been made. This can only be done if the responsibility and knowledge is shared across a number of people. This is easier said than done as it means there needs to be multiple people at the site who have invested themselves in the programs.
There is also the perception that people need to have all the answers or know everything before they begin, but I would suggest that this isn't the case at all. There are already many experts out there who are more than willing to assist so networking is a key strategy. You need to be willing to reach out to others and ask for guidance, as well as take part in the learning alongside the students. Over time our knowledge has grown as a community but as students move through the school you also need to continually revisit initiatives and ideas to ensure the knowledge isn't lost. Networking with other schools and organisations can be one of the most insightful avenues and we have certainly found that having formed close working relationships with external agencies can provide all you need to keep moving forward on the journey.
What would be your advice for others who are looking to embed similar projects within their setting?
It is important to be clear on what you want to achieve and spend time discussing your vision. This helps define the learning intentions and allows you to reflect on whether or not the projects are in fact in line with the vision and values of your setting. It means that you can be intentional in your decision making and the intent is also clear to others. If you are able to work in line with the strategic direction of the school then you are more likely to be able to embed any actions into the school teaching, learning and policies, rather than have it appear as something that operates alongside of these aspects.
I would also suggest to start small and celebrate the small wins you have along the way. Doing less and doing it well is much more effective than doing lots of things but without the quality. Look for real life experiences which can foster a love of learning in environmental sciences and can easily be transferred into other settings. It seems quite obvious but it is extremely important to make the learning meaningful in order for it to become deeper level understanding.
This article has been reproduced from the 2021 SASTA Journal Number 2. Previous issues of the SASTA Journal can be found in the members area.