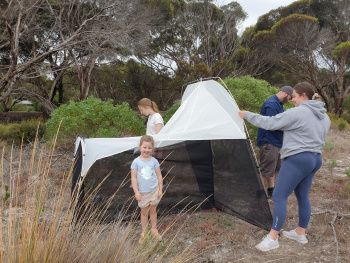 Contributors: Rachel Pillar, Paull Marlow, Hannah Tatlock
Here at Kangaroo Island Community Education (KICE) we have several new and exciting Environmental Science programs that we'd love to share with you!
We have created a new Marine Studies elective for our Year 10 cohort. Marine Studies is a hands-on, practical subject exploring our local KI marine environment. The course combines aspects of Geography, Science, Economics and Outdoor Education and students have already been involved in investigating sea water salinity at a variety of sites around KI, including the desalination plant in Penneshaw. Later in the year, students will take advantage of our easy access to the marine environment by snorkelling and conducting a fish identification survey, jetty fishing and participating in dolphin surveys with KI Dolphin Watch.
Ms Hannah Tatlock is in her first year of teaching and is running our SACE Earth and Environmental Science program. The Year 11s are currently studying the hydrological cycle are hoping to go to Adelaide to visit wetlands and learn more about water quality later in the year. They are also hoping to do an excursion with KI Dolphin Watch. The Year 12s are looking at the Earth's spheres and are currently making infographics looking at how negative human activities are affecting the spheres, with a focus on local issues such as overfishing. Later in the year they will be working with Land for wildlife to help research the Dunnart and other endemic species. We also have some budding geologists in our Year 11/12 cohort and are hoping to work with experts to further explore the amazing rock formations found here on Kangaroo Island.
KICE is also lucky enough to be involved in the Insect Investigators Program, which is being run by Adelaide University and Landscape SA in conjunction with a range of other organisations. We have set up our malaise trap at a site in Brownlow, close to Nepean Bay and the mouth of the Cygnet River, in the hope of finding some new and exciting arthropods. Reception to Year 8 classes at KICE will be monitoring the site and changing the collection bottle weekly, as well as conducting a habitat assessment. The program has provided us with a wonderful opportunity to learn about food webs and classification, whilst simultaneously developing scientific inquiry skills and connecting with taxonomists and entomologists from around Australia. The students are enjoying looking at what other schools have found and can't wait to share more findings of their own!
| | | |
| --- | --- | --- |
| | | |
| Caterpillar camouflage! This photo, taken by one of our Year 7 students, shows a caterpillar disguising itself as a twig. | Setting up the malaise trap in the foredune swale at Brownlow. | Insects play an important role as decomposers in ecosystems. We found this beetle feeding on a dead pufferfish right near our malaise trap! |