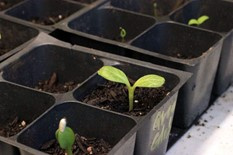 The theme for Science Week in 2021 was "Food – Different by Design". At Roma Mitchell Secondary College students participated in a range of activities – daily quizzes; a championship challenge; online viewing resources and Year 8 and 9 classes engaged in a "Seed Germination" hands on learning activity.
In germinating their own pea seed, students observed that seeds of the same plant type can have different varieties. Students observed the differences between different varieties of pea seeds and learned that different varieties of peas have different characteristics in many aspects such as growth, requirements, foliage and produce. Students also collected objective data through measurement of the radicle and plumule after emergence; tabulating results and creating an Excel spreadsheet
This was a wonderful opportunity, as well, for students to connect with nature and prompt intrinsic curiosity; utilise science observation and inquiry and further develop own ITC skills. It was great to see the enthusiasm and participation generated by staff and students, together with love of learning in Science shown, across Science Week 2021.
On behalf of the Science team Roma Mitchell Secondary College
- Kate Frost, Science and Mathematics Teacher