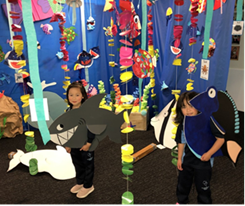 During Term 3 the students at St Augustine explored the Science Week theme Deep Blue: Innovations for the Future of our Oceans. Each class has investigated an aspect of the ocean and all of the amazing and wonderful creatures who call it home. We have also been investigating how we can care for the ocean by reducing, reusing and recycling our waste as well as sustainable and responsible fishing.
As part of their learning each class created a display to showcase their work. During Week 8 we hosted a "Deep Blue" STEM Expo in the hall for all students to come and see the amazing displays.
There were also inquiry stations set up for the children to explore and investigate which included an amazing underwater aquarium that the children could code robots to collect rubbish, the Magic School Bus dramatic play, a boat building and responsible fishing challenge as well as a reduce, reuse and recycle game.
Our students gained a sense of being custodians of God's creation and developed their passion for caring for the environment.
Being a sea animal under the sea was amazing. – Kaleha (Reception)
I liked catching the crabs and measuring to see if it was big enough to eat. - Sylus (Reception)
The rubbish in the sea will kill the fish. – Rory (Year 1)
I liked controlling the robots to help learn about cleaning the ocean. – Issy (Year 1)
I liked the virtual reality goggles because I could see the ocean. – Khai (Year 2)
In class, I learned that if the water is too warm the coral in the ocean can die. - James (Year 2)