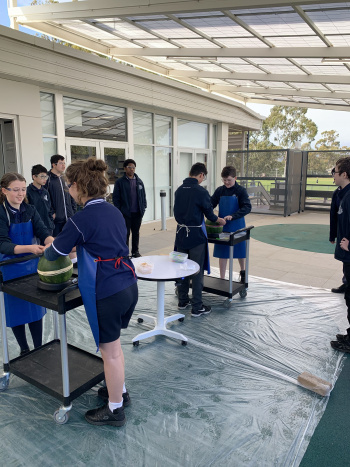 The theme for this year's national science week was 'Deep Blue', This was a chance to celebrate the enormous contribution that the oceans and rivers make to our everyday lives. It was also an opportunity to expose the students to the damage we are inflicting on the environment through poor management and bad decisions.
With thanks to the Science Team, we were able to host a number of activities and events that were not only engaging and relevant, they were educational and showcased the global, collaborative nature of science. Highlight's of the week include;
Mr Plaggermars hosting a water filtration challenge during lunch, having the students think 'Critically and Creatively' about the filter mediums they chose, the impact on the environment and the monetary costs involved.
Ms Ivancic demonstrating the effect of ocean acidification on the aquatic ecosystem and the detrimental cost, both economically and environmentally
Mr Tuffnell and Mr Brock (with the support of our fantastic year 8 cohort) highlighting the collaborative nature of science by participating in an Australian-wide activity to find out how many rubber bands it takes to 'implode' a watermelon.
Mr Stavliotis preparing a fun and engaging Home Group quiz using the Google Form program that had the highest participation rate we have had.
Mr Lombardi and Mr Brock setting up a display in the Learning Hub that explained how ocean currents work and highlighted the issues we are experiencing with large amounts of oceanic rubbish forming masses in the ocean.
A fantastic, highly educational week supported by a young and enthusiastic cohort of science students, led by a collaborative science team. We look forward to next year's science week, with the theme of 'Food – different by design'.
On behalf of the Science team at WHS,
Sam Tuffnell
Science and STEM coordinator