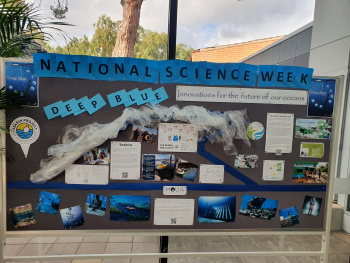 The theme for Science week in 2020 was Deep Blue: Innovations for the future of our oceans. At Cabra Dominican College, we began the week with a staff morning tea with ocean themed cupcakes, and periodic table biscuits spelling out our school motto, Cabra Veritas! All science staff also received a hand-made, ocean themed beeswax wrap to use instead of plastic. Science is linked with all subject areas and this was highlighted in a poster display.
In our Pastoral Care lesson, students learnt about the damage that plastics are doing to our ocean, and each home class contributed to a display of a whale breaching, showing that the bottom half was made of our plastic rubbish. This, along with posters and pledges to do better, highlighted what we can all do to save our important oceans.
Many students also participated in 'Showcase lessons' where year 11 students ran demonstration lessons for students in years 7 and 8. This was a wonderful opportunity for students to share their passion for Science with their younger peers.