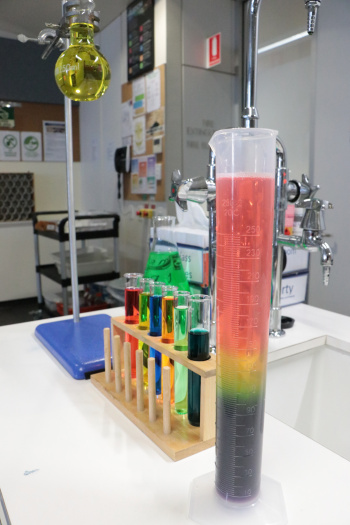 Gleeson College embraced the theme, 'Deep Blue: innovations for the future of our oceans' by hosting several exciting events. Our aim was to foster a passion for this meaningful topic by engaging students through external presentations and activities led by our experienced science teachers. To showcase why this subject is critical, a group of talented students created an inspiring canvas titled 'Save The Ocean, ditch single-use plastic' which, was made from used recess food wrappers. The wrappers represent 8 million tonnes of plastic that end up in our oceans every year and pollute the aquatic environment.
We made Science Week accessible, fun and interactive. Plastic pollution, Climate Change and general science fliers were posted around the school. Care Group quizzes and prizes along with the choice to participate in hands-on activities or talks hosted by The University of Adelaide made a great impression during the week.
The University of Adelaide guest speaker, Sophie Dolling, motivated the students during her presentations, 'Plastics: The problem is bigger than what we can see' and 'Have you heard about herd immunity?' It was evident that we all have a role to play and knowledge is key to making better choices with our plastic consumption and disposal.
What made Science Week extra special was the open sessions held in a laboratory during lunch. This enabled students to have a fantastic time making messy Elephant's Toothpaste, Alginate Worms and even during an overcast, rainy week they made a rainbow; pH variety of course! After a week packed with engaging activities, teachers and students had the choice of attending a finale event; lunchtime science movie, "Our Planet - Coastal Seas" with popcorn. Although Science Week 2020 is over we hope our activities continue to inspire a love of learning and hunger for Science.