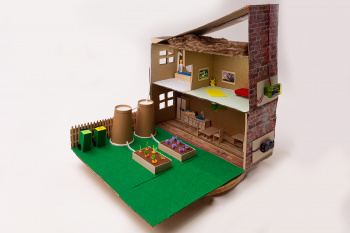 What is it like to be a judge in the Oliphant Science Awards? We met some previous judges and asked them why they think the Oliphants are important, why they judge and whether they had any hints or tips for entrants.
Models & Inventions Category
Sam Moyle (Brighton Secondary School) has been judging the Oliphant Science Awards for around 10 years.
"The Oliphants give students an opportunity to stretch their interest in science. That might be away from the curriculum for their particular year level - so, they can really pursue their passion projects. I really love seeing the innovation from students from all over the state - especially the primary school students who really set the bar for creative expression of science concepts.
I often want to use the cool model and invention ideas from the students in my classroom. I think last year it was a magnetic board for doing DNA coding that took my interest. This year there's some cool things with friction and herd immunity... and stuff from the juniors that I want to implement with the seniors."
Sam's tips for models & inventions:
"Inventions need to have an interaction component. We're not getting as much of that as we should. Students need to focus on how their model or their invention is interactive and how can they take it to the next level beyond just touch a button and light something up. How can they really convey that information and use that interactivity in a way that means they are really authentically conveying information, as opposed to I'll just have a button to press so that I hit that criteria.
I would love students to look at the models and innovations category as an opportunity to solve problems - so link it in with the science as a human endeavour concepts. Rather than just demonstrate how the solar system or a beehive work. How can we look at problems of now, and problems of the future and how can we come up with solutions for that and really be innovative in terms of that?"
Maria Caruso (Walford Anglican School for Girls) has been a judge in the Oliphant Science Awards for 20 years.
"I've judged most of the categories. It can be hard, but you try and avoid (categories and year levels)with your own school and it's great seeing what students come up with in other schools.
The Oliphants bring science into the home where it facilitates discussion between parents and students and gets them engaged and thinking about areas right from when they're really little.
The Oliphants also help students get set up for Year 12 by practicing in the younger years. Young participants learn lots of transferable skills like working in teams; planning; failing; addressing; adjusting and using initiative. A project can be a disaster at year 6 or 7. They might learn that their friendship groups aren't necessarily the best working groups. They can work out that a plan can be too big and not achievable. Then by the time they get to Year 12 they have it all worked out. Of course, the Oliphants is also about having fun too."
Walford students have a history of doing well in the science writing category. Do you have any tips?
"I probably need to give credit to the English department, not so much the Science department on that one. It's the girls - I think the girls really enjoy that element of research and writing creatively. It's allowing them to learn about something where the choice of topic they actually control, not us. And they can present in a way they wish to present, not in a way we deem it should be presented. I find you get a lot more creativity rather than say this is what we're going to do, this is how we're going to do it, now bang go ahead and do it. I think it sets them up for the senior years more than anything."
Maria's tips for models & inventions:
Inventions have to be interactive. If the judges don't do anything, if we're just looking at the model it doesn't meet the criteria. Also, I'd highlight the importance of the risk assessment – students really need to show us what they did to make sure they were safe in whatever they were building.
You can check out some of the winning Models & Inventions entries from 2021 here.
This article has been reproduced from the 2020 SASTA Journal Number 2. Previous issues of the SASTA Journal can be found in the members area.