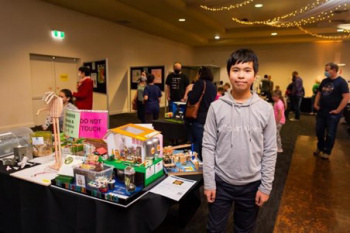 by Eugene Lee, Pedare Christian College
I'm so honoured and privileged to have received the Oliphant Trophy. I've participated in the Oliphant Science Awards every year since I was a Year three student in 2017, where I won the Australian Institute of Physics Prize and First Place for my Models and Inventions entry on the topic of Magnetic Trains.
The reason I participated in the Oliphant Science Awards when I was an 8-year-old boy was not because of my love for Science, but because I was dragged along by my friend. After attending the Oliphant Science Awards, I felt more engaged and searched for new topics for inspiration.
I am currently attending Pedare Christian College, but I must first thank Mrs Vira Wallis, the Science teacher at Mawson Lakes School, who encouraged me to participate in the Oliphant Science Awards five years ago. She advocates for all students to actively participate in scientific observation and investigation in their early school years, which has led me to develop these skills.
In addition, I would also like to thank my current school Principal, Mr. Tamblyn; Head of Middle School, Mrs Brooks; Science Coordinator, Miss Ireland; and my Home Group teacher, Mrs Johnson for their support and assistance. I also would like to thank my parents for supporting and delivering the projects for me in these five years. They always provide 100% support for me in enrichment activities and competitions that nurture my interests. I would like to share the joy of winning the awards I received this year with them.
I am just a Year 7 student - not an expert or researcher in scientific areas - but what I can share with all students, parents and teachers is that science is not just a subject or the knowledge that is gained from textbooks for me. It is more like an extension of daily life. My projects over the past five years have no difficult mathematical calculus, no complex scientific terminology, or complicated chemical formulas, but they are closely related to our lives. The Oliphant Science Awards lets me understand the importance of observation. Only by finding problems from observation can we help solve problems through invention and innovation.
Finally, I am most grateful to the organisers of the Oliphant Science Awards who have given me the opportunity to experience the fun of scientific research and rewarded my efforts through these awards. I am deeply appreciative, and I hope more and more students will participate in the Oliphant Science Awards in the future and develop a love for science. Even the smallest of observations can make a difference in the world.
The Microbial Fuel Cells - Model & Inventions Category (2021)
After four years of participating in the competition, I felt that the scientific process was becoming easier - 'practice makes perfect'.
My school, Pedare Christian College, puts me in the acceleration program for science and maths, which helps me to learn more writing skills about scientific assessment. However, I also find it is gradually becoming more and more difficult to find a suitable topic.
At present, due to the continuous spread of the COVID-19 epidemic, I began to think about how to coexist peacefully with viruses and bacteria and even effectively utilise the microorganisms. Virus is a difficult area for me at present, since it is too hard to obtain equipment and viruses samples, therefore, I chose the lower-risk microbial bacteria as the beginning topic of combining biological and physical fields.
I'm so honoured and privileged to receive the Oliphant Trophy this year with my project 'The Microbial Fuel Cells', and this is my third consecutive year to be awarded the First Prize of Young Scientist Award.
I hope it can inspire other young students who are still considering participating in the OSA. Growing up with the OSA will allow for good memories and experiences. Winning six awards, including the Trophy, at once will be an unforgettable experience in my life.
Dye-Sensitised Solar Cells - Model & Inventions and Scientific Inquiry Categories (2020)
The Dye-Sensitised Solar Cells (DSSC) could be regarded as the project that I had spent the most time on researching so far, and it was also the project that had encountered the most setbacks and problems.
Due to the influence of COVID-19, it was difficult to obtain the materials required. I didn't even know whether the OSA could be held on schedule under so many uncertainties, but I was really satisfied and proud of the finished work, especially when I used readily available materials to create my unique flexible DSSCs, I could hardly describe my excitement. Some teachers praised me for my research project equivalent to the university or post graduate level. I finally felt that the time spent was worth it.
The DSSC could be regarded as my favourite project, I learned that things in life can also be substitutes of experimental materials. For example, toothpaste and correction fluid can substitute the most important material TiO₂ in DSSCs, and iodine can be used as the electrolyte. I began to care about the composition and contents of materials, medicines, and foods around me which will be of great help and inspiration for my scientific research in the future.
I was awarded four prizes in that year's OSA and was awarded the BHP foundation Science and Engineering 2021 Primary Finalist, Science Investigation Award Year 6 First Prize, and the CREST Silver Award with a medal.
Wireless Power Transmission - Model & Inventions and Scientific Inquiry Categories (2019)
This was my first time participating in the Scientific Inquiry category. Before I started creating my model, I always had complete experimental records with my report. After reading my experiment log-book, my mentor suggested I could submit another entry just before the deadline. So, I participated in the Model & Inventions and Scientific Inquiry with the same topic. In fact, I personally think these two categories are closely related. This has become the way I participate every year - I create a unique invention by using the knowledge learned from the experiments.
It was amazing to see the Giant Tesla show at the Melbourne Planetarium, and I was deeply attracted by why electric energy can be transmitted wirelessly. When I held the bulb close to the Tesla model I created, I was full of pride when the bulb lit up. From this year's competition, I realized that the process of hypothesis, experiment, record, problem solving, and conclusion was so interesting and challenging. I think this is the charm of scientific research and respect for scientists' commitment to experiment. Only through steady experiment verification step by step can we have various inventions and better lives.
I was also awarded the BHP Foundation Science and Engineering Awards 2020 Primary Encouragement Award and CREST Bronze Award with this topic.
My Aquaponics - Model & Inventions (2018)
When I participated in the second year, I already knew more about the OSA and knew that more than 2,000 students from more than a hundred of schools participated in the competition. My mentor, Vira, worried that I would be under pressure and comforted me that only a few students could win awards for two consecutive years, but I was lucky to win the Primary Industries Education Foundation Australia Prize and Highly Commended with 'My Aquaponics'. Although I didn't enter the top three, l like this project because I had my first pets, two little goldfish.
I learned how to use referencing and appendices to avoid plagiarism in my report - which was a very difficult task for a Year 4 student.
The most important thing was that I proved that I could win the prize continuously if I worked hard. It made me feel more confident for the future competitions.
Magnetic Train - Model & Inventions (2017)
This was my first time participating in the OSA's. I didn't have much understanding of the Awards and I didn't have much expectation of winning. I just tried to find the topic I was interested in, and seriously did the research, experiment, recording and creation of the model. The 'Magnetic Train' project really made me popular among young children - they all thought this was cool.
I won the First Prize in the Model & Invention category and the Australian Institute of Physics Prize, which undeniably inspired and encouraged me. I also realized the fun of pursuing knowledge in the process of preparing for the competition. I still remembered how excited I was when I received the envelope with a $190 cheque - a lot of money for a little 9-year-old boy (8 years old when participating in the competition).