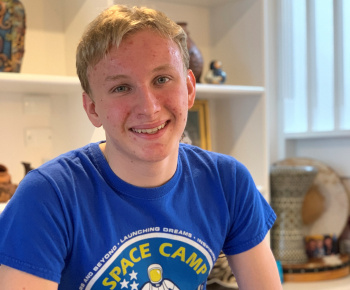 video by Regan Nelson
Regan was first encouraged to enter the Oliphant Science Awards by his Reception teacher in 2011. He has entered a project every year since with a number of winning entries over the years!
Regan always hated writing and when he was in Year 2 he was diagnosed with dyslexia, dysgraphia, cognitive memory processing disorder and attention deficit disorder. The Oliphant Science Awards has helped Regan learn how to play to his strengths and given him the opportunity to develop his interest in science in a variety of ways, not just through writing.
"You don't have to be the smartest or fastest kid in the class to show your potential and that is what's great about the Oliphant Science Awards."
Regan's top tips for developing an OSA project:
Know the rules
Pick something fun
Plan a timeline
What is the science?
Find out Regan's inspiring journey through the Oliphant Science Awards, his top tips and process for developing his projects in the video below!
View details for Regan's 2020 winning entry 'The Skyhook Propulsion System (TSPS)' below.