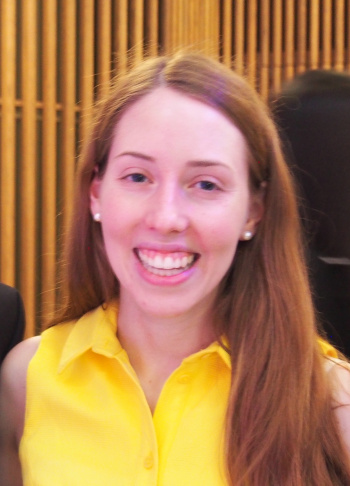 by Alyssa Fitzpatrick
The five test tubes sat in the corner of the lab benches, each containing different brightly coloured liquids. As the Year 10 students rushed into class, chattering amongst themselves after lunch, they were directed to each of the test tubes, and asked to smell them. Which was sweeter? Which was the most unpleasant? At the crux of it, I wondered, would our
pre-conceptions of how coloured foods taste and smell impact how we perceived the smell of an otherwise innocuous liquid? This was the basis of my 2004 Oliphant Science Awards Experiment entry, entitled 'Seeing red: an investigation into the effect of colour on the perception of odour in beverages', and for which I was awarded The Oliphant Trophy.
Each year of secondary school, we were encouraged by our teachers to explore an area of science that we were particularly curious about. Over the years, I had watched plants grow, considered how memories are formed, and wondered about the best way to preserve foods. This did result, at one point, in a collection of agar plates containing tomatoes with various stages of mould growth decomposing in our family study, which my parents generously tolerated. Through it all, we had the mentorship of Loreto's science teachers, including Dr Wright, who guided us through the process of developing our ideas and executing our plans.
Since those early science experiments, I have continued my journey in STEM through medical school at the University of Adelaide, and have undertaken a Master of Global Health Science and Master of Public Policy at the University of Oxford through the Rhodes Scholarship program. I currently work as an Infectious Diseases Registrar in SA Health, and find that many of those skills the Oliphant Science Awards help to develop – curiosity about people and how they behave, hypothesis generation and critical thinking – are integral to this work. Curiosity and creativity are not always seen as synonymous with the STEM fields, but this is the great strength of the Oliphant Science Awards. By permitting students to conceive a project and run with it, in whatever form it may take, students are given the freedom to see that their ideas have merit and see that idea develop into a tangible output. The 40th anniversary of the Oliphant Science Awards is a wonderful achievement, and I thank the South Australian Science Teachers Association, and all the teachers and volunteers, who have invested thousands of hours to ensure that the Awards continue. I look forward to seeing what happens in the next 40!