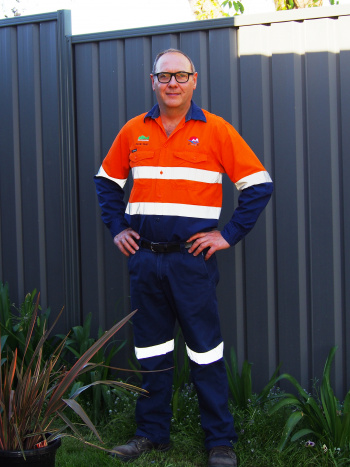 by Dr David Tilley BSc (Hons) PhD
Winning the inaugural Oliphant Science Awards in 1981 was a defining moment in my life. It led to many opportunities that I could only dream of. I undertook my entry into the Oliphant Science Awards while in Year 12 at the Mount Gambier High School. I was 16 years of age.
The title of my entry was "Opposition '81". Over a two week period when Jupiter was opposite the Sun and closest to Earth, I observed the planet's upper atmosphere in intricate detail using my astronomical telescope. I recorded my observations as a series of drawings and photographs in a journal. Along with changes in Jupiter's atmosphere, I observed movements of the four Galilean moons, including their transits across the face of Jupiter.
I was thrilled when I was told by my chemistry teacher that I had won the award for experimental investigation. Everyone at school and my family were so proud of me. The prize, a sterling silver paperweight handcrafted by Sir Mark Oliphant, was presented to me by Monica Oliphant at a ceremony at the Australian Mineral Foundation Centre in Glenside, Adelaide. I was so excited to receive the prize which was in the shape of the planet Saturn rising through cloud.
However, it didn't stop there. I had also entered my project into the inaugural BHP Science Prize. I was one of 25 young science students who were flown to Canberra for the awards ceremony at the Australian Academy of Science in 1982. Although not a winner, I met the then Governor General of Australia Sir Zelman Cowen and had the opportunity to thank Sir Mark Oliphant in person for the silver paperweight he had made.
My first job after finishing secondary school was a technical assistant with the CSIRO in Mount Gambier, where I had a 3 month contract working in the laboratory and in the local pine forests.
Later I secured employment as a video technician at the local TV station in Mount Gambier. While at the station for four years I saved enough money to put myself through university.
I received a Bachelor of Science with Honours majoring in geology from the Flinders University and later a PhD from the Australian National University (ANU) in the field of regolith mineralogy. My research thesis was about the evolution of bauxite at Weipa in North Queensland. During my research I discovered two new minerals.
After completing my PhD I was appointed as a research fellow at the ANU and then became a lecturer assisting with the teaching of mineralogy to undergraduate students. I left academia to travel with my wife soon after getting married. After a year away we returned to Canberra where I began working in the Australian Public Service as a resources and energy policy officer.
Five years later the passion for travel enticed us to move to New Zealand. Before leaving, I donated the silver paperweight to the Australian Academy of Science in Canberra for all to see in the years to come. I felt this was the best thing to do as the founder and first president of the academy was Sir Mark Oliphant.
In New Zealand I started working for OceanaGold; my first job as an exploration geologist.
For seven years I continued working as an exploration geologist and mineralogist for various exploration and mining companies in Australia and New Zealand.
I then worked as a spectral geologist managing the NSW government's HyLogger facility in Western Sydney for five years.
40 years have now passed since winning the Oliphant Science Awards. It has been a great honour to be recognised as the first ever winner.
I am now living at Parkes in central western NSW where I work as a mineralogist for Northparkes Mines looking after their X-ray diffraction laboratory. I often recall the memories of adventure, discovery and recognition that I have received throughout my career. I strongly believe that if I hadn't accepted the challenge that day when my chemistry teacher came to me about entering the Oliphant Science Awards, I may not have had the wonderful life that I have been blessed with. Thank you SASTA for starting and continuing these prestigious science awards.