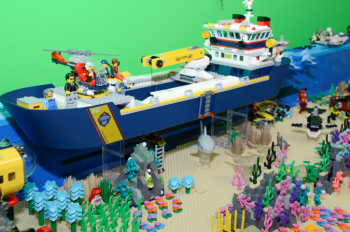 This year the Mount Gambier High School Science Faculty dove deep into the 2020 National Science Week theme, 'Deep Blue: Innovations for the future of our oceans'. This provided students with an opportunity to celebrate the pivotal part oceans play in life on the planet, to consider how we can help the ocean now more than ever and what some of the specialised professions are that work to protect and maintain our oceans.
The usual creative science week themed morning tea had to be shelved due to COVID-19 restrictions and a far more exciting event took its place. The CLC Green Room was home to an ocean landscape created out of LEGO, designed by teacher Emma Robinson. "It's key purpose was to spark conversation about the way in which the community and the people in it need to consider how we behave and treat our waterways and systems leading to them," said Mrs. Robinson. Not only was the ocean landscape great for a look, and a chance for staff and students to enter the 'Look and Find' LEGO competition, it was also used by science teachers as a tool to prompt discussion around important events occurring in the LEGO ocean landscape. It also provided the opportunity to explore the theme 'Deep Blue' and then consider ways to reduce the current impact humans are having on the ocean environment.
Science teachers also gave students the opportunity to get up close and personal with Sharks through our VR headsets in the CLC. "VR is a fun activity to get you into the world of learning. While looking at the sharks I could see tiny details and learnt what the inside of sharks look like. It was really cool," said year 9 student, Connor Haggett.
Across the school, homegroups were able to join in through quiz questions and fast facts such as "Did you know that sharks are functionally extinct in one of five coral reefs across the world?" and display boards popped up showcasing our aquariums across the school and their inhabitants. Classes were also taken across to see various species of fish, coral, snails and crabs living in the marine aquarium located in our Front Office, which provides a talking point for visitors to the school.
Lastly we had a local radio presenter Rod Sparks drop in and interview one of our science teachers Samantha Brown as part of promoting science week to the local community and highlighting the importance science plays in our everyday lives.