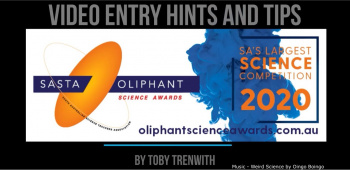 Have you considered adding video content to your Oliphant Science Awards Submission?
While videos are a popular project choice for the Multimedia category, short videos can also be a great way to record and showcase other project submissions with the judges - especially for country/remote students.
Here are just a few ideas as to how videos could be made to support project submissions;
Scientific Inquiry – electronically journal or document your research and show your results
Programming, Apps and Robotics – record your robot or program in operation or provide instructions on how to use your app or program!
Games – get your family together to show the playing of your Board Game! You could get creative and make a short ad about your game and what science and concepts you put into creating it. Or for electronic games, you could create a brief information video with instructions as to how to play and the development of the game to be added to the start of your game?
Models & Inventions – put together a short video as if you were showing and talking to the judges about your Model or Invention… be sure to show it in action!
Need some help making a video? Watch this video made by one of our previous student project winners Toby Trenwith:
A final reminder, always remember to save your video so it can be submitted and viewed by the judges! MP4 files are recommended, however, if using another file format or creating a large size file consider uploading your content to platforms such as YouTube or Vimeo and simply attaching the URL (and if you created a viewing password be sure to include this too) with your project!