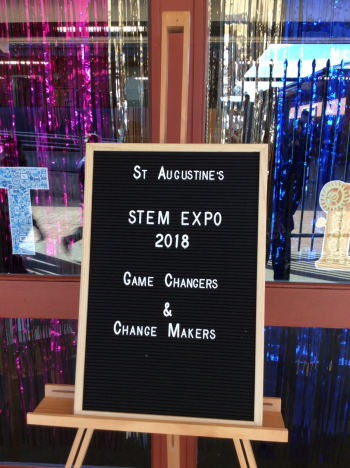 Classes from across the school worked on a huge variety of STEM activities throughout term 3 then presented their learning at our STEM Expo in week 7.
Each year level prepared a display of their learning journey to share with the community. Our Receptions focussed on the pollution of our water and care of sea creatures, the Year 1's looked at the property of materials and bridge building, the Year 2's focused on helping some fairyland characters rebuild fairyland, the Year 3's learned all about space, the Year 4's shared their passion for recycling and pollution, the 5/6 classes became inventors and designed and created their own Game Changer creations and the Year 7's shared the online games that they created at Camp Code.
When visiting the EXPO each class had an opportunity to explore and investigate various inquiry stations each with a STEM challenge for the students to complete. These stations were linked to the work of five scientists who are considered Game Changers and Change Makers - Sir Douglas Mawson, Isaac Newton, Helen Chan, John Roebling and William Bragg.
There was lots of collaboration, persistence and peer teaching amongst the students who were excited to share their own class investigations as well as participating in the inquiry stations. We hosted an after school session for our families to attend and there was the same level of engagement and enthusiasm from the parents!
- Catherine Morrisson, Jayme-Lee Sonneman, Jayne Brown, St Augustine's Parish School