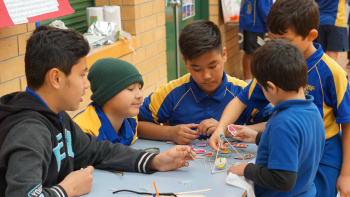 On Friday the 17th of August, Northfield Primary School held a Science Expo. This gave our year 6/7 classes the opportunity to showcase their science learning to the rest of our school community.
For 6 weeks the year 6/7 classes worked on a scientific inquiry question that they created which was of interest to them. They then researched their question displaying their information on a poster board, developed an experiment to match their inquiry and had the opportunity to create a STEM task for the other students to complete.
The day saw our year 6/7 students set up their booth with all three aspects and then present their information to the rest of the school. Our students were engaged, enthusiastic and learnt so much about Science!
You can check out a video of the winners of 'Most Engaging Presenters' with their project 'what are states of matter?' here!
- Tara Cousins & Sarah Krstic, Science Specialist Teachers, Northfield Primary School