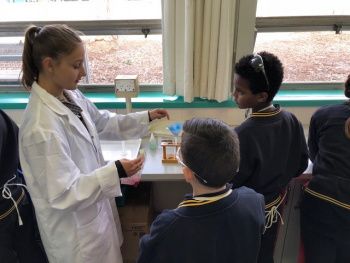 Findon High School hosted Seaton Park Primary School in student led activities for National Science Week. A range of activities occured during the week including:
Wednesday - Year 3/4 students created dioramas depicting symbiosis on the reef and threats to the Reef assisted by Year 9 students.
Thursday and Friday - 40 Year 5/6 and 6/7 students participated in DNA extraction activities, creating DNA genome bracelets and designing paper aeroplanes facilitated by Year 8,9 and 10 students.
Thursday - Dr Ysabella Van Sebille spoke to an audience of students from year 6 to 10 about what it takes to be a change maker and Game changer and how as students you can make a difference.
The interactive and digital component of these activities can be found here.
During the week there were lunch time 20 minute science experiments and challenges and displays of the research projects the year 8 and year 9 students completed on Moments of discovery and Reefs at Risk.
Next week several Year 8/9 students are facilitating STEM activities with 90 Year 6/7 students in Woodville Primary Schools STEM Room.
- Jane Logan, Teacher & STEAM Coordinator, Findon High School