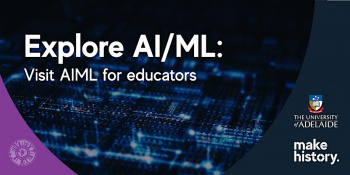 Wednesday 26 July | 4.00pm - 5.30pm
Australian Institute for Machine Learning, North Terrace
High school teachers are invited to join us and explore the work that is being done at the Australian Institute for Machine Learning (AIML). Our institute is dedicated to advancing the fields of artificial intelligence (AI) and machine learning (ML) through cutting-edge research and innovation.
During this event, participants will have the opportunity to hear from our team of experts about their work in the field of AI/ML. Academics from the School of Education will explore some of the latest technologies that we're using—including ChatGPT and language models that generate images from textual descriptions—and explore how these can be used in the classroom to enhance teaching and learning experiences.
We'll also provide information about the various pathways that are available for students interested in pursuing careers within the AI/ML field, including opportunities to study at the University of Adelaide.
Participants will gain insights into the skills and knowledge required to succeed in this dynamic and rapidly growing field. Join us for drinks and nibbles as we explore the exciting possibilities of AI/ML and learn about the important work being done at AIML. Please note this is an in person event only.