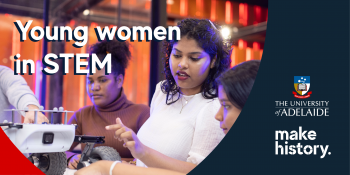 14 & 15 June | North Terrace Campus
FREE event
Please join us in encouraging women to pursue careers in the growing fields of science, technology, engineering and mathematics (STEM)!
Your students will have the opportunity to meet current women studying STEM while undertaking a range of engaging hands-on activities, taught by technologists, engineers and mathematicians.
We invite each school to bring a maximum of 15 year 9/10 girls to undertake a hands-on day full of STEM activities, designed to inspire continued study in a STEM field. Groups will be guided through several interactive challenges which will broaden each participants' listening skills, teamwork and problem solving; all highly sought after skills in STEM careers.
Find out more and register here.